Passionate Date Nights
Learn Conscious Touch, Tantra Massage & Tantric Lovemaking in the comfort of your own home
▶ Watch Trailer
Time to turn on something else than Netflix?
Looking for a fun night of inspiration without having to leave the house? At Ultimate Lovers we teach you how to experience a whole new level of passion with your partner. With a team of experts, we will bring online courses in Tantra straight to your bedroom. We have coached and guided dozens of couples in the past few years during sessions. And now we want to share all our knowledge, insight and tricks with you.
Learn new skills during these fun Date Nights at home
Tantra has many definitions but we would like to call it Conscious Sexuality. The Tantric Toolbox contains skills that can be learned, cultivated, practiced and deepened. Does Tantra sounds mysterious? We will demystify everything and bring it back to simplicity: powerful demonstrations, exercises full of aha-moments, easy to follow massages and practical tips that will change your love life tonight.
Enjoy!
Are you...
Longing for a deep and fulfilling connection with your partner?

Longing for more chemistry and passion in the bedroom?

Experiencing pain or feeling numb during intimacy, and would you like to transform this into pleasure?

Insecure about what your partner wants or afraid to express your desires?

Curious to learn about Tantra but afraid to attend a workshop?
Learn all the essentials of Tantra in 4 evenings
10 hours full of demonstrations and exercises
Each of the 4 Date Nights has a duration of around 2,5 hours. The course is designed to last 8 weeks so we advise to plan a Date Night every 2 weeks. But of course you are free to set your own pace. Want to have a taste first? Then start with exploring one date night. See all course options here.
The course includes:
4 Breath E

xercises

relax and open your body to establish a deep connection with your partner (1 hr total)

8 Conscious Touch Exercises

resensitize yourself and transform your whole body into one orgasmic zone (5 hrs total)

4 Tantra Massages

instructional videos that will guide you in giving your partner a sensual massage (2 hrs total)

12 Tantra Tips

hands-on tried and tested tips that will have a profound impact on your lovemaking (1 hr total)

4 Tantric Explorations

inspiring demonstrations that will inspire you to explore erotically together (1 hr total)
After having explored the 4 Date Nights together, you will...
Have the tools and skills you need to transform your lovemaking and know how to skillfully massage your partner with more than just your hands

Know how to include your whole body (and not only your genitals) into your lovemaking and start exploring the vast variety of orgasmic states

Know how to express your desires and boundaries to your partner

Know how to use breath, relaxation and many other tools to prolong your lovemaking

Understand how to create a strong polarity between you and your partner
If you are interested, but would like to start with one Date Night only, no problem!
Click here if you would like to check out the available options.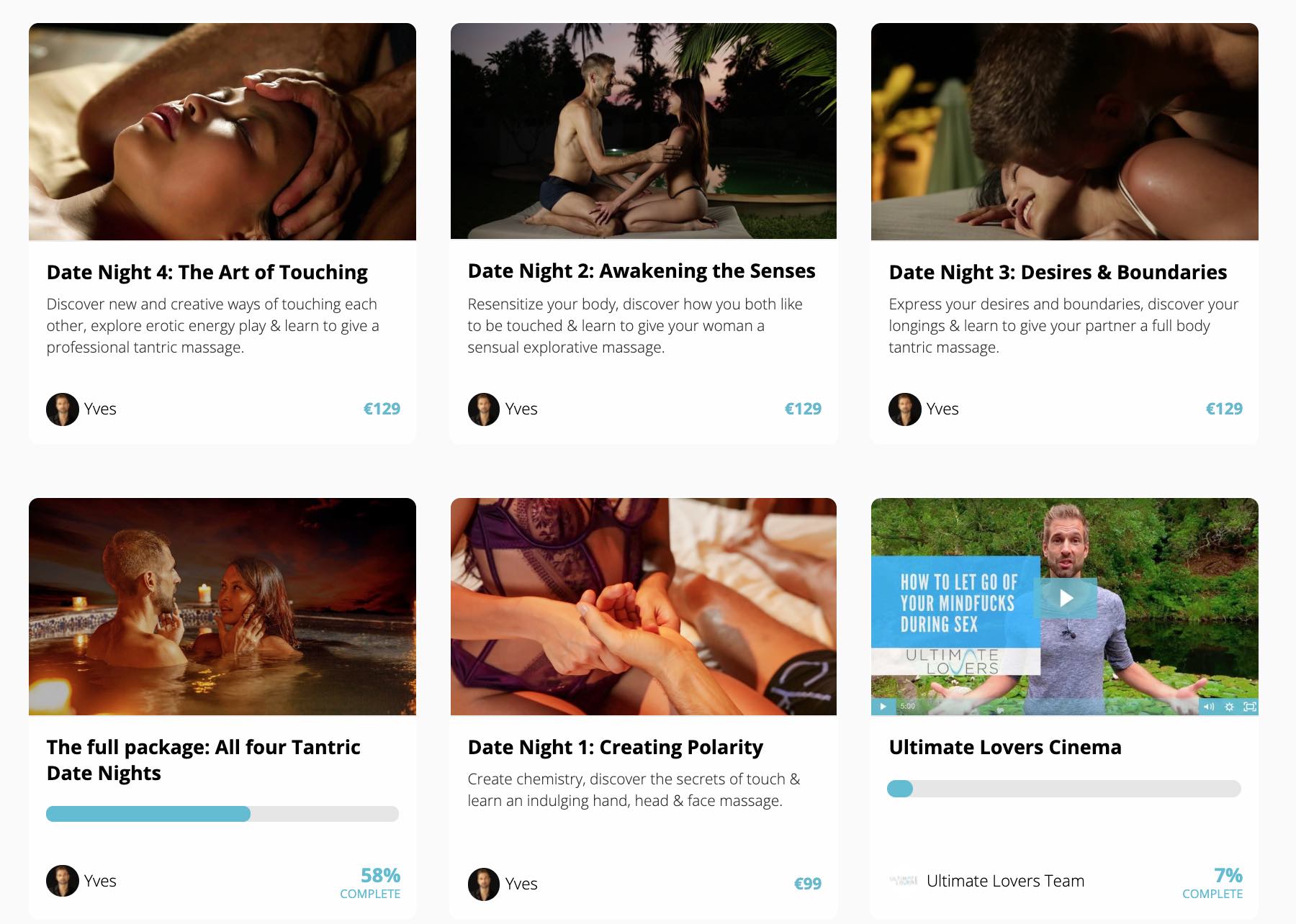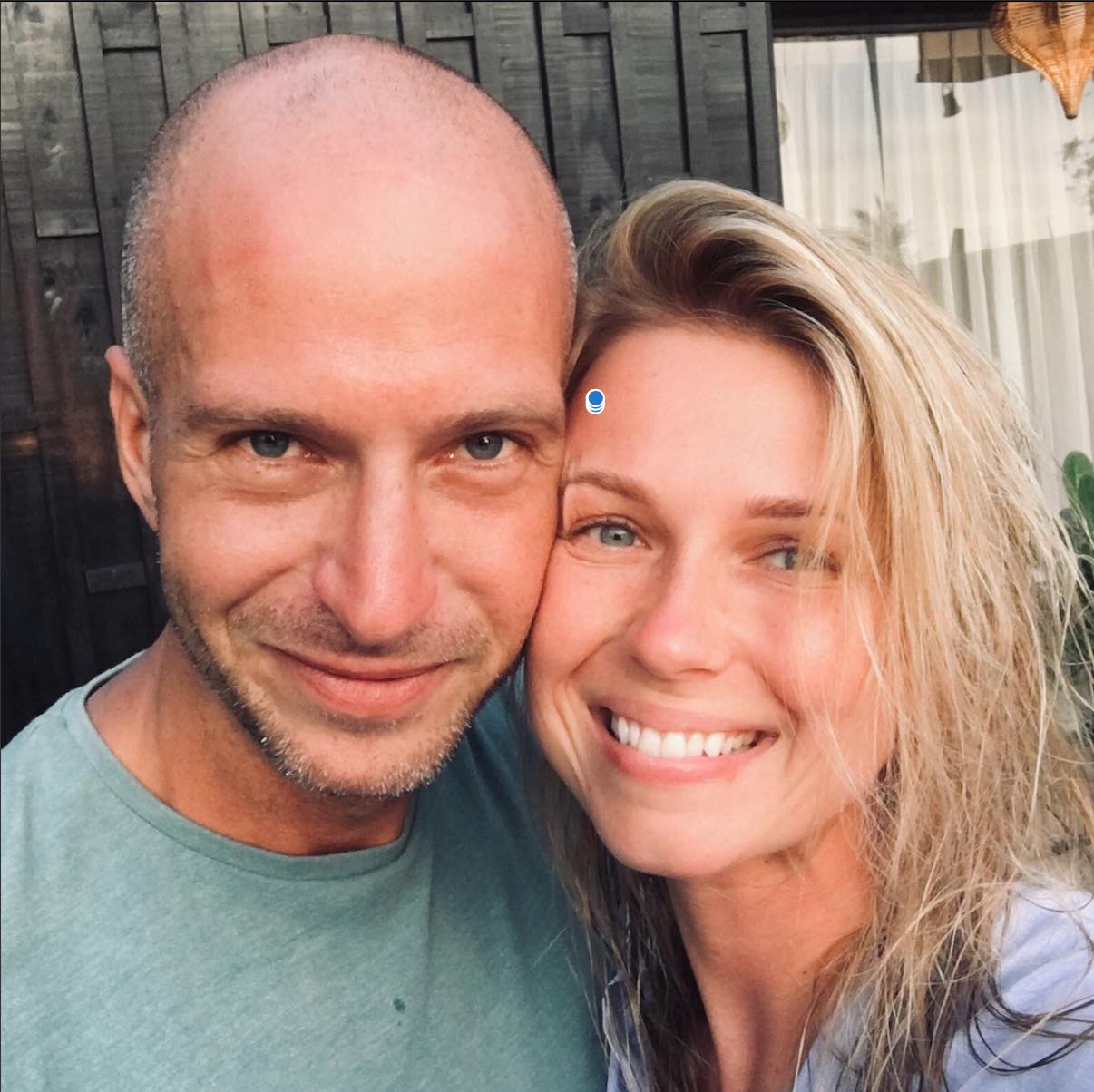 "It felt like our own private workshop"
Doing the date night's exercises and sharings with each other helped bring a depth of connection to our sexual play that we hadn't experienced before. We never realised just how passionate we could look at each other. Or how much energy we could move through the other's body with just our hands alone. Yves showed us how we could connect with each other by not only using our hands and bodies, but also our breath. This not only made our bodies much more sensitive. It also fired up our desires big time!

We would say that Tantric Date Nights should be the starter kit for everyone who longs for a deep sexual and sensual connection with their partner.
Yves' explanations, as well as the beautiful demonstrations of the exercises, massages and tantric experiments, were very inspiring. It felt like we had our own private workshop where everything was slowed down and talked about in a way that made it safe to share whilst also being sexy and fun.
Thank you Yves!
- Santa and James, London, United Kingdom
Online Tantra courses straight to your bedroom

Ultimate Lovers online Tantra courses will bring you all the sexual wisdom you missed at school, from online 'rabbit habit' movies and from your parents. Of course you can also attend a Tantra workshop, but not everyone is ready to go to Tantra or intimacy workshops to learn about a delicate subject like sexual skills. For many people these kinds of workshops are either too intimidating, too expensive, or too difficult to plan. Ultimate Lovers online courses are designed for people who want to learn Tantra in the comfort of their own homes and at their own pace.
If you want to know which fundamentals we can teach you, see the Ultimate Lovers Essentials.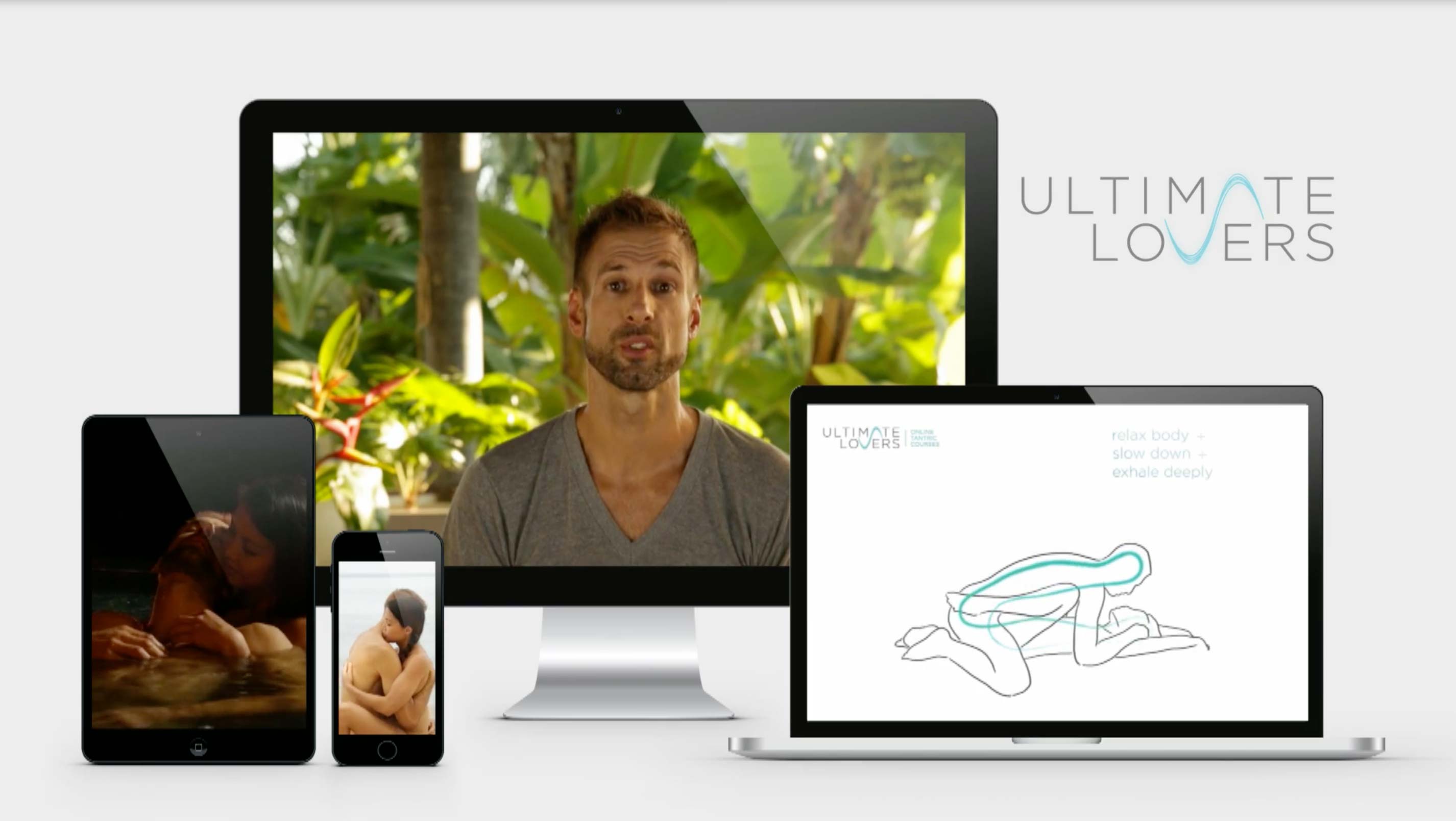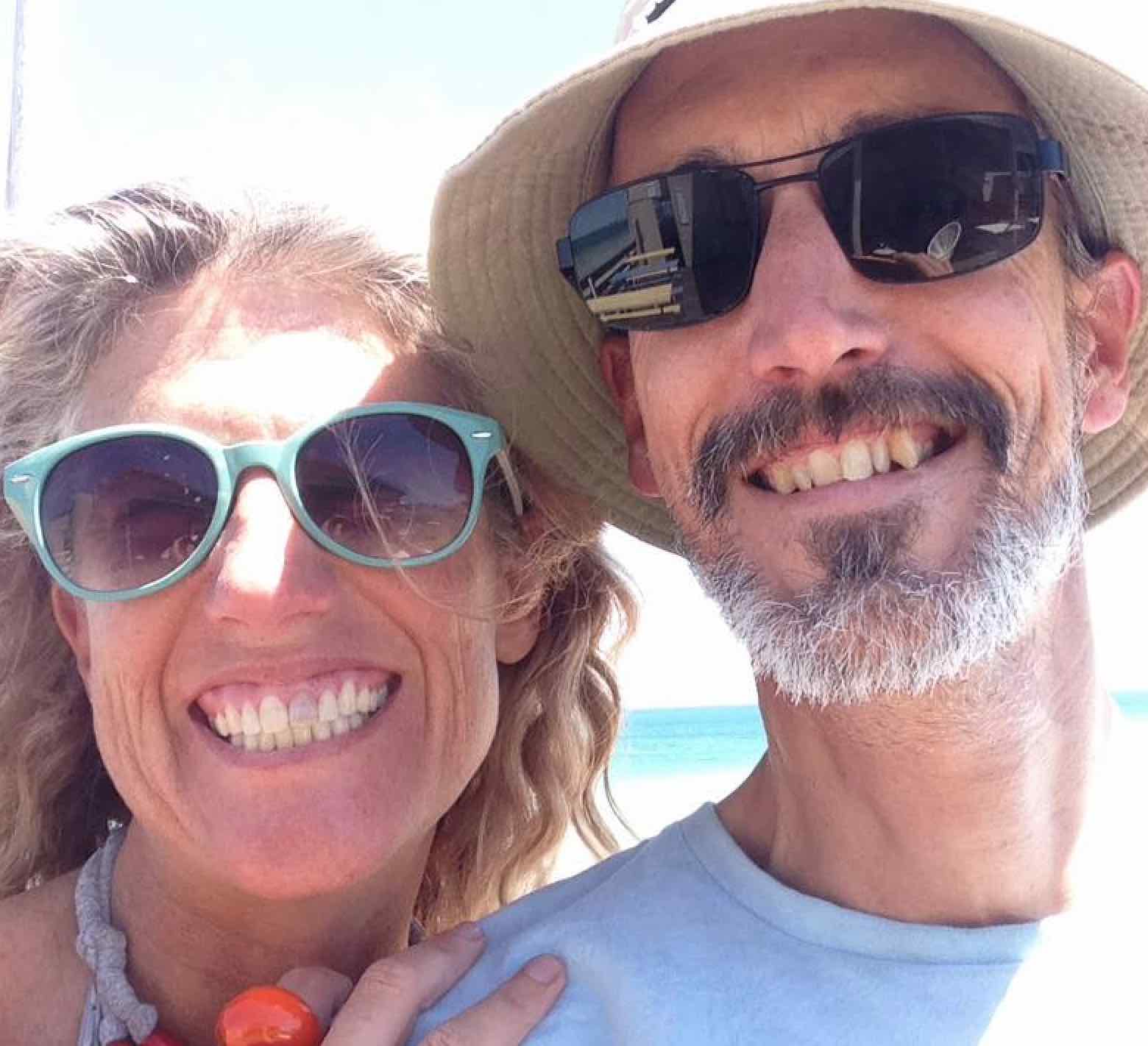 "We had the best connection ever after the course, and that after 18 year relationship"
We have been together for 18 years. Before we did this course we got a bit stuck between the sheets, but this course really helped. We had some really good experiences during the course. We even had to stop a video halfway a date night because we had so much fun to have the best sexy encounter we ever had:)
It was helpful to learn taking the time, not rushing, breathing together. Putting music on, preparing. Massaging each other. The course has helped us explore what we each like and to understand what the other likes and to communicate about that.
The Date Nights are really well presented. Very straight but thoughtful. The exercises are powerful. The videos hold a space to explore and have fun. Easy to follow and easy to enjoy.
-Lyndall & Rich, Adelaide, Australia
MEET YOUR INSTRUCTOR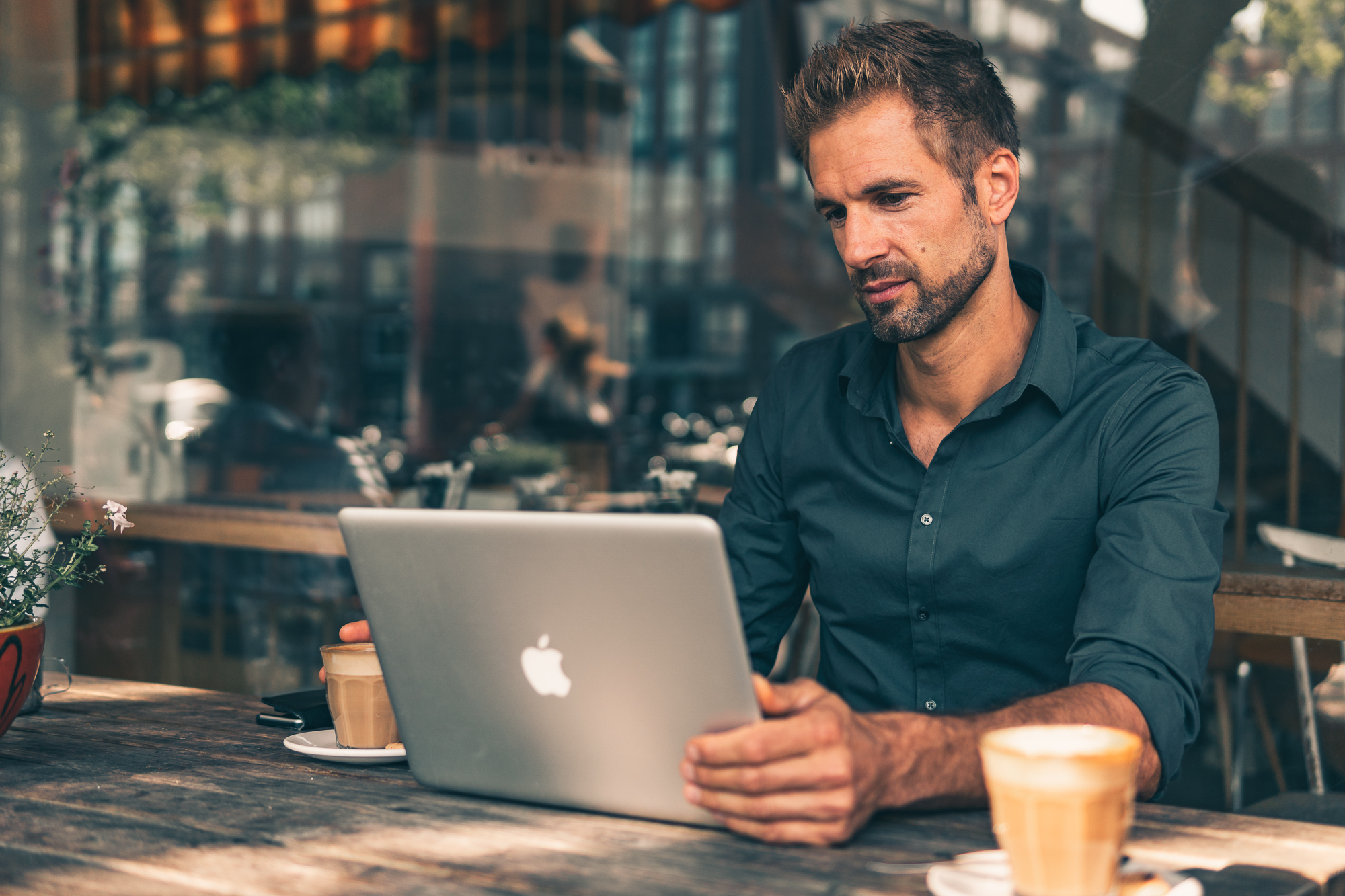 Coaching in the bedroom
Hi, I'm Yves and I have been an educator in sexuality and intimacy for years. I have coached women and couples on their path to becoming better lovers and creating a better love life. I have practiced my sexual skills for thousands of hours. I was not a sex educator who only offered counseling for the bedroom, I actually went into that bedroom with them, where I was able to observe, explain, demonstrate and participate directly.
From lawyer to intimacy coach
Making the change from being a lawyer to being a tantric educator has completely transformed my life. As a lawyer, I felt that I was missing embodiment and depth, due to being stuck in my head all day. Now, I feel much more present, energy and am alive in my body. My relationship with my lover, friends, family and most importantly myself has dramatically changed for the better.
What I have learned I put into this course
During the couple sessions it became clear to me that, even though everyone had his or her own unique story, many couples struggle with the same issues when they try to restore the chemistry in their love life. The things that we long for in the bedroom are not that different from one another. In my sessions I developed and tested different exercises to help the couples reconnect with each other, re-sensitize their bodies, become vulnerable with each other, and transform their love life. I have put the best exercises in this course, together with the help of the Ultimate Lovers team.
Reaching more bedrooms
People often confide in me and tell me they feel like something is missing in their love life. They ask me what to do when intimacy has become dull, disconnected, repetitive and unsatisfying. After years of doing sessions, I came to the realisation that I would reach more people through online courses and explain step by step what you can do to bring chemistry and pleasure back into the bedroom.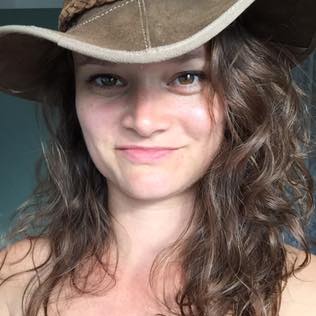 "A great online place for a kickstart of a new intimate connection, or for re-ignition of an existing one"
Yves and his team did such a great job creating this course! 
I followed Yves' evolution from up-close. He really succeeded in integrating the best practices from different fields of intimate work.



 The course offers a rich set of tools for couples who want to deepen their connection. With a pinch of tantra, breath-work, touch exploration, play, massage and reflective exercises.

A great online place for a kickstart of a new intimate connection, or for re-ignition of an existing one.
 These four dates are fun, accessible, rich, explorative, sensual and connective. And you can do them at home in your own pace. A great thing to do if you're not up for live workshops but want to move forward with your connection.
Did I mention the beautiful sensual surroundings and video material? A joy to watch real people sharing intimacy.
 Well done Ultimate Lovers!


-Annemarie Reilingh, Amsterdam, The Netherlands
Pelvic Therapist & Pleasure Advocate, www.pelvicawakening.com