WHAT IS ULTIMATE LOVERS DATE NIGHTS ABOUT?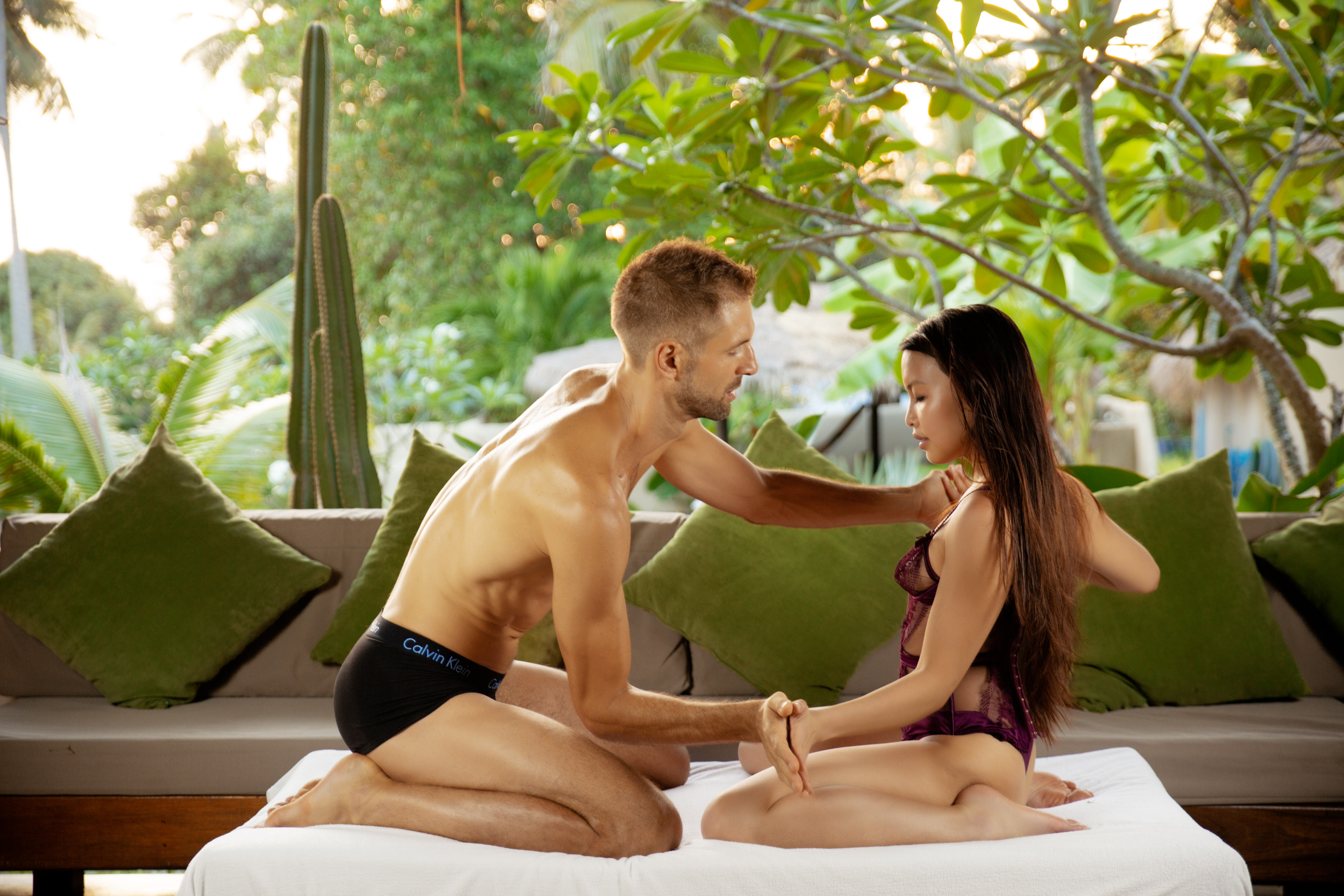 Ultimate Lovers' Date Nights is an online course that will provide you with the tools you need to expand your toolbox and restore passion, pleasure and polarity to your sex life. You will learn about conscious touch, tantric massage and tantric sex.
Great sex is a skill that can be learned, cultivated, practiced and deepened. Conscious sexuality is about more than just short-lived pleasures, friction and routine. It goes beyond the physical, and it penetrates our very core. This first course will take away the focus from the genitals so you can learn how to transform the whole body into one giant orgasmic cock or pussy.
WHY WOULD I WANT TO DO THIS EXACTLY?
Many people think that sex is something you do, not something you learn. But no one is born a great lover. Let's be honest. Sexual education on school is virtually non-existent. In biology you learn how to reproduce, and that is pretty much it. No one is teaching you the art of great sex, tells you what is really possible when you learn about this most important social way of communicating we humans we have to our disposal. Porn shows us what people fantasize about, but doesn't teach us anything about how to restore passion, create a strong chemistry, resensitize our senses, fully tune in to each other, and have incredible sex.
If we are lucky, our parents had an open mindset towards sex and sexuality, but even if this was the case, chances are still that they themselves never had anyone either that taught them the intricate art of great sex.
My profession as a Sex Educator always leads to interesting conversations, people often ask:
'Our sex life is so boring after all these years, it has become repetitive and predictable, what should we do?'
'My partner has no idea what I really want in bed and I don't know how to tell him, what do you think?'
'I heard that full body orgasms exist, is that true?'
Sex doesn't have to be dull, disconnected and unsatisfying. Even after many years with your partner, sex can still be fun, intimate and exciting.
And no, your partner can't guess exactly what you want. That's why you'll have to learn how to recognise and express your longings. And yes, full body orgasms absolutely do exist! I have guided many women AND men in discovering all kinds of orgasms - from womb orgasms to valley orgasms, and from G-spot orgasms to full body orgasms.
It's quite common to take piano lessons to learn how to play the scales. It's also normal to take surf lessons to learn how to ride the waves. But where do you learn the art of great sex? Who actually teaches you how to move your hands along your partner's body? Where do you learn to increase your horniness AND hold on to it? Not at school, not usually from your parents, and certainly not from the online fast food porn that you can see within two mouse clicks.
To learn the art of great sex, you will have to unlearn a lot - like for example the hasty sex with eyes closed and muscles tensed, all leading to one small peak. Many people are very disconnected and disembodied from their sexuality, which means they are not present and not feeling their bodies fully during sex. Most people are either thinking too much or only focusing on their genitals. They spend the majority of the time rubbing against each others genitals with their eyes closed, fantasising about something else, and ending prematurely in a genital sneeze.
I want to teach you how to experience great sex as it is meant to be. That's why I created a course that is designed to reinvigorate any relationship.
Sounds great right? And that's just the beginning.
Hundreds of books have been written about sex, but people often lack the patience and interest to read them. There are many Tantric workshops on offer, but people often find them too intimidating or expensive. There are many tips and tricks on the internet, but trawling through them to find legitimate advice is confusing and frustrating. If you want to experience great sex and deep intimacy, it will take more than just simple tricks.
That's why we have created an online course that is deep, exciting, and can be done in the comfort of your own home and at your own pace.
Conscious Touch, Tantric Massage and Tantric Sex are skills that can be learned and practiced.